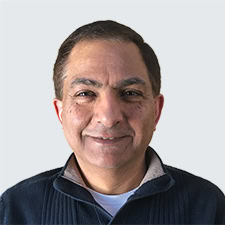 Sushil Shelly – Principal Software Architect
Sushil has an extensive background in data communications and in building real-time systems that are reliable and highly scalable. He was a founding member of an entrepreneurial startup that innovated and supplied high-capacity switching equipment deployed by AT&T. Sushil carried this experience forward and applied his expertise to building a bleeding edge objectstore appliance.
Among his accomplishments with BigR.io, Sushil led an immensely successful development team in designing and implementing a large-scale medical image exchange that securely turns over 10s of TB of data weekly, across organizational boundaries and disparate systems. Sushil has been central to standards compliancy for Integrating the Healthcare Enterprise (IHE) initiatives, including HL7 and XDS/DICOM adherence. Additionally, Sushil was a key figure in implementing a large-scale data ingest pipeline and NoSQL store for eBay Enterprise (120B+ transactions per year, with 5M transactions per minute at peak).
Sushil earned his Bachelor of Science in Electrical & Electronics with Specialization in Digital Electronics from the London South Bank University. Sushil also studied Data Structures & Algorithms at WPI and is an expert in architecture/design, Java/C++, Eiffel, Linux, routing & internet protocols, highly-available systems, and NoSQL databases. Sushil is an Agile enthusiast and has fine tuned the methodology and approach to lead teams to predictably successful, on-time delivery.