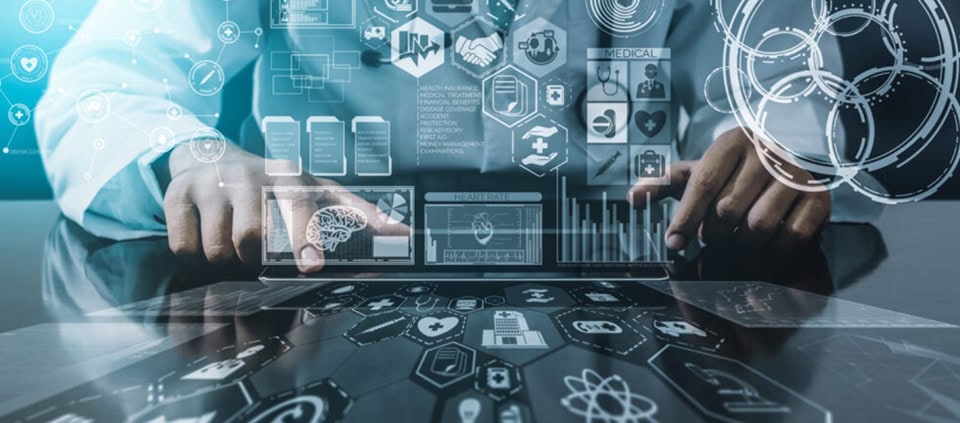 In 2022 readers of these pages saw many reports on the incredible advances AI is creating in diagnostics and patient care. However, there is more to the delivery of healthcare in this country and to improving patient outcomes than direct treatment protocols. As it turns out, AI is tackling those issues as well, solving many of the bottlenecks and other burdens that are placed upon healthcare administration.
"Clinical burnout" is a very real problem among healthcare personnel. Mounds of paperwork and short staff have only increased these pressures in recent years. The more time doctors, nurses, and other clinical staff have to spend on administrative duties, the less time they can spend with patients – overall care at the facility or hospital suffers, and readmission rates increase.
According to the American Academy of Family Physicians, primary care physician appointments take an average of 18 minutes, of which 49% of the time is spent handling electronic health recording.
But a relatively new application of AI in healthcare, known as "computer-assisted physician documentation (CAPD)," can and is changing all of that, so more of the clinician's time during a visit is spent on patient care and not on administrative tasks.
According to 3M when of the initial implementers of the solutions, "CAPD acts as a scribe and advisor, nudging clinicians with documentation suggestions to make record keeping as thorough as possible. These non-intrusive nudges decrease clinician stress and reinforce accurate billing and reimbursement."
As AI assists with the capture-to-code process, integrated electronic health record (EHR) systems must work in tandem with cloud-based systems to pass and connect information across departments.
CAPD assistants not only save time but also lower the chances of errors and duplicative work. Information sharing across departments gives transparency to the revenue cycle and provides a complete picture of both the patient story and population health.
"The better the coding is, the better the outcome for the hospital, which enables the hospital to make decisions that will improve their services to patients," explains Catalin Velescu, 3M area division director of the EMEA region.
How BigRio Helps Facilitate Advancement in Healthcare AI
Like the AI technology being developed and implemented by big IT players such as 3M, BigRio is also helping to foster innovation in AI for healthcare.
In fact, one of our most successful cases was using our resources to create a new cloud-based intuitive model for one of the top 10 EMR/HER providers in the US. The Client realized that their EHR platform needed UI/UX redesign and revision to take advantage of cloud-based integrations and applications. BigRio stepped in to create a modernization roadmap strategy, architecture, execution plan, and prototype to fit the Client's needs.
We like to think of ourselves as a "Shark Tank for AI."
If you are familiar with the TV series, then you know that, basically, what they do is hyper-accelerate the most important part of the incubation process – visibility. You can't get better visibility than getting in front of celebrity investors and a TV audience of millions of viewers. Many entrepreneurs who have appeared on that program – even those who did not get picked up by the sharks – succeeded because others who were interested in their concepts saw them on the show.
At BigRio, we may not have a TV audience, but we can do the same. We have the contacts and the expertise to not only weed out the companies that are not ready, as the sharks on the TV show do but also mentor and get those that we feel are readily noticed by the right people in the biomedical community.
Rohit Mahajan is a Managing Partner with BigRio. He has a particular expertise in the development and design of innovative solutions for clients in Healthcare, Financial Services, Retail, Automotive, Manufacturing, and other industry segments.
BigRio is a technology consulting firm empowering data to drive innovation, and advanced AI. We specialize in cutting-edge Big Data, Machine Learning, and Custom Software strategy, analysis, architecture, and implementation solutions. If you would like to benefit from our expertise in these areas or if you have further questions on the content of this article, please do not hesitate to contact us.
https://bigr.io/wp-content/uploads/2023/02/How-AI-is-Solving-Healthcare-Administrative-Problems.jpg
423
960
https://bigr.io/wp-content/uploads/2021/07/bigri-logo.png
2023-02-10 04:59:22
2023-02-10 04:59:22
How AI is Solving Healthcare Administrative Problems